So I have been lounging so hard during this break, it's actually kind of sickening. I have literally been sitting in my apartment online shopping, watching YouTube or The Golden Girls, pinning, etc. Nothing super important/worth blogging about. I did find a bunch of clothes that are now to big on me so I have them all set up on my dress form waiting to be taken in so I can actually wear them. Hasn't happened yet but hey, baby steps – you don't want to rush into these things!
However, yesterday…or maybe it was Thursday, yeah one of those days my friend and I went to a war photography exhibition at the Annenberg Space for Photography. If you're in the LA/Century City area I would definitely recommend it. I cried like a baby at one point. I just don't do so well with war/military things. Too much sadness for me to handle, especially since I cried so then my friend cried and then this old man cried and soon everyone was in shambles. There was just a lot of sadness going on in that little room!
But on to what I actually wanted to talk about in this post  before I start bawling like an infant again. I've been doing a lot of online window shopping I should say since I haven't actually bought anything. I usually just put everything in the cart as I browse the website. I'm not sure if this is annoying/the website people can see me doing this but it's the best way I know to keep track of what I want until I can buy it/really think about if I need it. And, even better if it is no longer available they just automatically take it out of the cart for me. I made a little list of the top things I really want – in no particular order!
LAVER Chair – Ikea. I'm honestly obsessed with Ikea, I can spend the better half of a day looking at their website. I just want all the rooms! But these chairs I really liked and they aren't that's expensive at all! I'm going to use them in my kitchen since I have a table but no chairs. I really wanted to do that cool DIY project with the card table chairs and you spray paint them and then recover them with funky fabric but finding card table chairs that aren't $100+ is just not happening for me. And, I really can only fit 2 in my kitchen and most of the time you have to buy those chairs in fours. So, these were my next option. Cheaper, and I won't have to spend more money on the materials to do the project.
HP DeskJet All-In-One Printer – Wal-Mart. Ok, not having a printer at home is probably one of the most inconvient things in the world. There has been so many times that I've had to go to school early just to print  paper or something like that. Nope, not anymore. And, honestly just why don't I have a printer? I feel like if you have a computer you have a printer. Maybe I'm weird? Who knows! But I really like this one because it's a scanner also which is cool and I think will be useful for me in the long run.
Fun for Your Life Wall Decor in Dino – ModCloth. I mean…who doesn't want a dino head to hang on their wall?!?! I seriously died the first time I saw this. It isn't currently available anymore but I'm keeping my fingers crossed that it comes back and I can get it!
Trunks Full of Taste Shaker Set – ModCloth. Elephant salt and pepper shakers. I mean, need I say more? I love these so much and think they are just so cute. They also have shark shakers too and I can't decide which ones I like better. Which is why I haven't made the purchase yet. Check both of them out and let me know what you think! I want one of the sets but I just can't decide if I'm going to go the cute route with the elephants or the beastly route with the sharks!
Signs You Might Be A Mermaid…. – Etsy. Ok, I NEED THIS! Also not currently available……I'm a week to late. Officially PISSED. But I messaged the artist asking her to make me one with the same phrasing and pink background so hopefully she says yes! I originally found it on Pinterest and needed it. When I first came to LA and went to the beach I told my friends this story that I totally made up that I couldn't go into the ocean because I would turn into a mermaid. Well, not thinking I had already gone in and naturally was called on that. To which I responded with, "Well duh. I mean I can't go in up to my neck. I can get my feet/shins wet." LOLOLOLLLL. What? I'm a kid and act like a fool most of the time. But I really do love this and want to hang it in my kitchen.
Hometrends Accent Chair – Zebra Print – Wal-Mart. I want some seating so when people come over to my house they don't have to sit on 1.) my bed, 2.) my desk chair, 3.) the floor, or 4.) stand. I have a little space along the last wall where I think two chairs and a little table in the middle of them with a lamp or something will make a cute little seating area for when people come to my house. And, it just looks weird in here. Like I get that I live in a studio apartment and this is how it works but it's literally my bed room, kitchen, bathroom, and dressing room. That's it. No wonder its weird when people are here and no one ever really knows what to do. I think if there was a chair just sitting there the person would sit down and feel much better.
Singer Perfect Finish Serger – JoAnn. I've really wanted a serger for a long time. Since I so sew much and want to start selling my stuff I feel like I kind of NEED one to finish off all the raw edges and make everything look nice. And, as far as school goes there has been so many times that I didn't clean finish the edges because french seams are just annoying and I didn't have a serger to finish each seam before I went on to the next one. Ahhh…1st world problems.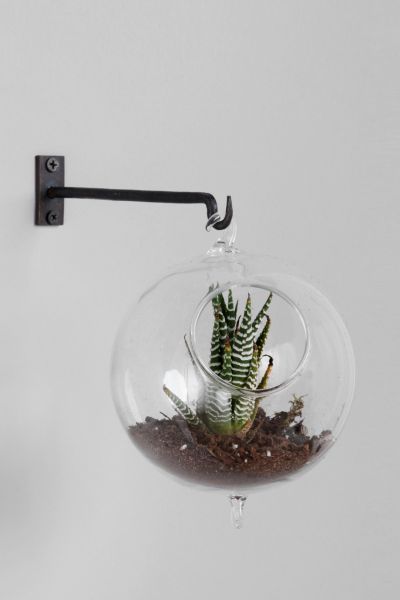 Hanging Double-Bubble Glass Terrarium – Urban Outfitters. I just think this is pretty cool. I don't have any plants in my house so I think this would be kind of cool to hang on the wall and keep a little bubble plant in it. However, when I worked at the flower shop at home I seriously hated the terrariums so much. Probably because they are so damn picky about how much water they need/get. They actually have a couple other wall mounted planters like this that I like and I think it would be pretty cool to have them all hanging on the wall. Coooool…project in the making…. 😀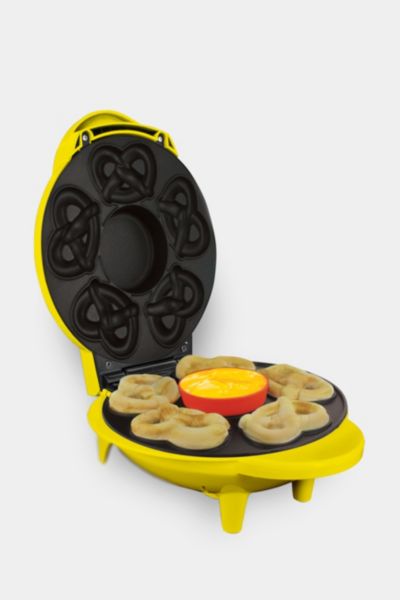 Super Pretzel Soft Pretzel Maker – Urban Outfitters. I just really don't think this one needs explanation.
I want a shelf like this to put near my door so when I come in I can put all my shit on it and even put my shoes there maybe. I already have a pretty cool wall set up going. I put a cork board, calendar board, a nail for my keys, etc. on the wall so as I'm walking out the door I don't forget anything like I had been doing. It's kind of a narrow space so I need to keep shopping around for one but it will make for a cool like "entry way area." That's the thing with living in a studio is you have to try and put all aspects of a house into one room. Not cool but still cool at the same time you just have to make everything condensed and mini!